Instant Twister
Author:

•

Published on:

•

•

Edited:

Category:
control Ableton Live with Instant Twister.
Instant Twister is a Max for Live Device, where you can integrate DJ Techtools Midifighter Twister seamlessly into Ableton Live. it's possible to store all your controller settings of the Midifighter Twister inside Ableton Live.
Instant Twister Version 2 is compatible with ARM Macs now.
user manual
add Instant Twister
After purchasing the Device an Account is created and you have to reset your password to have access to your Devices. Please be sure you use an valid mailadress.
If you have pruchased Instant Twister already, please log into your user Account to Download it again.
Midifighter Twister
The Midi Fighter Twister is a highly versatile and MIDI controller with 16 high resolution Chroma Cap encoders push switches on every knob.
With the Instant Twister 2 you are able to set up everything inside Ableton Live. All your mappings & colors are stored in Live and you can have your individual colors for every Live Project.
Further you have up to 16 Banks, which are also accessible via the Midi Fighter itself and/or thru another external Midi controller or an Automation within Ableton Live.
That means you are able to let the Midifighter Twister follow it's presets by the selected scene or whatever you want.
Features
set individual colors for the 16 knobs of the Midifighter Twister inside your Ableton Live set.
up to 16 presets per Live Project
let the Midifighter Twister follow your Liveset and automate what you want to control on the Midifighter Twister.
navigate easily thru the 16 presets via the side buttons or the encoder knobs.
name your presets.
Videos
In this video you see some possibilities to control Ableton Live via the Midifighter Twister & the Instant Twister Max for Live Device.
In combination with Trackselect you can navigate trough your Liveset with the dials, fold & unfold Group Tracks or configure it as a channel strip to control the Volume, Pan & Sends of the selected Track.
On other Presets the Midifighter is connected to Sonic Charges Microtonic & to MIXMUX DJ Style Arpeggiator from Mididope, to have a fast access to your Sequences and Sounds.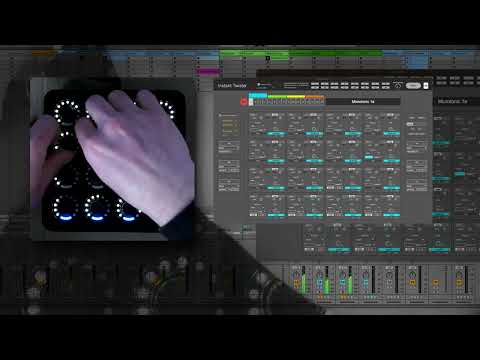 System Requirements
minimum system requirements: Ableton Live 11 with a Max for Live License.
To install Max for Live Devices please read the FAQ
Share